Biography
EDITH DONC , whose real name Edith Bos Boyer was born in 1978 in Hyères in the Var, a Dutch father and a French mother. His parents working abroad , she discovers at an early age, the joys of travel . She lived in Algeria , the Netherlands , Belgium and France , not to mention the many trips across Europe but also in the Persian Gulf .
Taste for color and design comes from childhood. Very young she reproduces photos and images in pencil and pen , for many years . It was around the age of 18 she decided to deepen the painting, and begins very tormented works, but also abstract or colorful.

In 2001, following several degrees including a Technical Sales BTS, she decided to pursue her dream of attending classes at the Beaux Arts. Enrolled in courses at the Royal Academy of Fine Arts in the city of Liege, Belgium, it was released in 2005, graduated in monumental painting. In 2007, back in the south of France or she moved independently as a professional painter. In 2009, returns to his hometown in Hyeres, or she meets the Artists "Underground" local.
From 2010, performing arts events. Co-founder and organizer of "Art is public" pop-up shop in 2010, 2011, "The Art evolution" in 2011/2012 and Co-manager of the gallery associative "Républiq'Art" since 2012.

Its diverse painting is a reflection of a complex personality. Emotions, moods , torments , fears, reflect an experience, a moment of life . A more critical look at its environment pushes a heavy atmosphere or creaky , dark tones, stark and whistleblowers. Then mingle words, contrasts , collage ...
Are thus treated topics such as choking spirits by the omni presence of advertising, seeking profits to the winds , the degradation of the world by humans. She points to the absurdity incurred in our current society .

A very personal style , steady development.
Education
2001-2005

Diplomé de l'académie Royale des Beaux-Arts, Licence en peinture monumentale. Liège, Belgium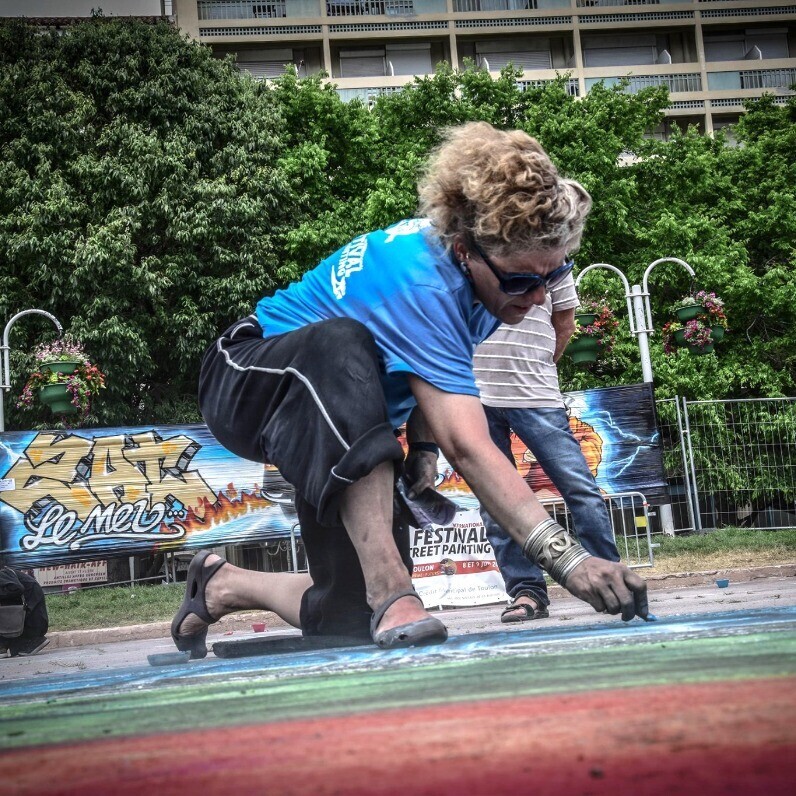 The artist at work
Awards
---
2017 Médaillée au 45ème "Antichissima Fiera Delle Grazie" (street painting). GRAZIE, Italy
2015 1er prix "Dessin libre" au Festival International de Street Painting. TOULON, France
2011 Lauréat au concours "Révolution" avec la toile « Etre européen, ca change quoi ?» Artisticulturel. CADEROUSSE, France
2009 Prix Peinture pour l'ensemble des oeuvres a l'exposition "Talents de Femmes 2009". LA GARDE, France
2008 Prix catégorie "Portrait", pour le tableau intitulé "Qui a osé" au 11ème concours de peintures et sculptures PHOCEART - Galerie Phocéa. MARSEILLE, France
2008 2ème prix "Les peintres de la mer". MARTIGUES, France
2008 2ème prix "La nature dans tous ses arts". Galerie Communic'art. PARIS, France
2007 3ème prix, "Les peintres de la mer" MARTIGUES, France
Residencies
---
2017 Résidence 1 semaine atelier Antonin Heck. PARIS, France